We´re happy to contribute to the new website of the Office 365 MVP community at http://www.office365mvps.com!
This cool website was created by Darrell Webster and combines the blog feeds of the most known Office 365 MVP´s – worldwide!
There are also some other MVP´s who share their expertise in the Office 365 products Exchange, SharePoint, Lync and Azure Active Directory. More information about the Microsoft MVP award program can be found here.
We designed and developed the new website layout. This is how it looks: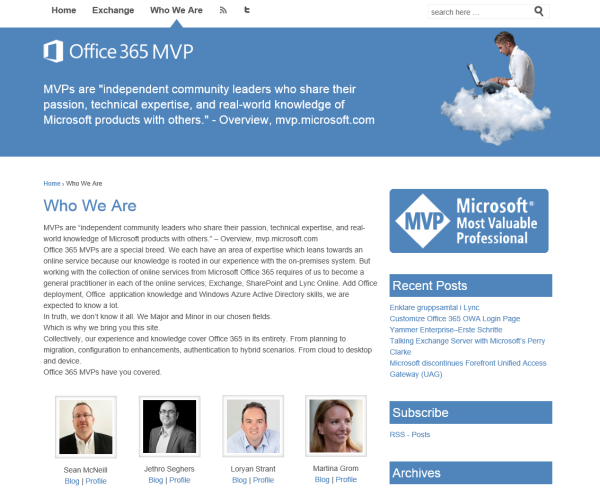 It´s HTML5 and responsive for a good user experience on smartphones.
See also some more sources with #Office365 Know How!
Additonally Jethro Seghers  created and fills the  Tipp of the day Blog with a daily post about Office 365 tips, 365 days a year!
For Tipp of the day Blog we programmed a Windows 8 App and a Windows Phone 8 App.
You find them here in the Microsoft stores:
Then there´s the Office 365 FM Podcast web hosted by Loryan Strant.
Sean McNeill is organizing the Yammer Group – contributing the Office 365 International Usergroup. Sean is host of the monthly Lync meeting of the Office 365 International Usergroup:
In 2010 we´ve created a cloudusergroup fanpage on Facebook where we put in a lot of tips and news about cloud computing!
And – cause it´s christmas – we´ve a cool xmas-video! Check it out:
So, a lot of stuff about Office 365 news and know how!
We´re happy if you find useful information and being part of the Office 365 international community!
Stay tuned for news and updates on all our channels #office365!